It's PARTY Time!
So grab a hand and follow the leader!
If you have a blog or website with any article pertaining to family, fitness, being cheap (I mean frugal), crafting, recipes, or is just plain fun....

Click below and add your name to the list!
If you can not see the link entry...click the colored title to this post and it will appear!
There are no real rules-except nothing x rated!
Link up at least 1 post (max of 2) AND 1 social media site so we can all follow along!
Visit as many links as you can and leave comments!
Its just like the game Follow the leader. Follow at least the person ahead of you and behind you. Follow others via twitter, Facebook, Pinterest, Bloglovin', etc
Link back if you can and when! Not required but appreciated!
If you have a blog hop today or this weekend...go ahead and link it up!
If you need a button...Take a button!
If you are interested in being a Co-Host....send an email to info@frugalfitfamily.com!
Follow your amazing co-hosts:
We are Sisters, each Raising a set of Sisters with our husbands, separated by geography but not philosophy. And our lives are everything you would never expect. Mustang Sally is a national sports television producer for FOX Sports and ESPN. Penny Lane is an aerospace engineer and astronaut trainer for NASA. We are Wives, Mothers and Daughters of Our King. Our counter-culture careers (now part-time or on-hold), play a happy runner-up to investing in our families and working to change the culture our girls are destined to encounter.
We like to describe ourselves as "Empowered Traditionalists."
AND
This website is designed to be a place where busy folks of all ages can stop by to learn and share recipes and ideas on how we can keep getting healthy food to the table, while maintaining our busy lifestyles. Some days it may not be fancy, but it is always striving to be REAL. We are on a mission to prove that REAL FOOD can be eaten instead of fast food even with a busy schedule. We invite you to join the mission!
Check out last week's features!
1. This Retired Ladder from Through My Porch Window is a MUST DO!
2. Crispy Microwave Potato Chips...from I Pinned It.com! Can't Wait to try them!
3. This Organic Grapefruit and Thyme Marmalade from Sew Grown looks YUMMO!
4. Check out Lisa Newlin for a laugh with Seriously? No I Do NOT have one unread mail!
5. Its GRAD Season and Makin' it Mo' Betta is celebrating with Brownie Graduation Caps!
6. This Essential DIY Sunblock from Essentials Chic is a GREAT find!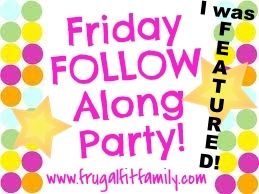 LET'S GET THIS PARTY STARTED!!
Loading InLinkz ...
Now...Get CONNECTED!