It's PARTY Time!
So grab a hand and follow the leader!
If you have a blog or website with any article pertaining to family, fitness, being cheap (I mean frugal), crafting, recipes, or is just plain fun....
Click below and add your name to the list!
If you can not see the link entry...click the colored title to this post and it will appear!
There are no real rules-except nothing x rated!
Link up at least 1 post (max of 2) AND 1 social media site so we can all follow along!
Visit as many links as you can and leave comments!
Its just like the game Follow the leader. Follow at least the person ahead of you and behind you. Follow others via twitter, Facebook, Pinterest, Bloglovin', etc
Link back if you can and when! Not required but appreciated!
If you have a blog hop today or this weekend...go ahead and link it up!
If you need a button...Take a button!
Follow your co-hosts:
Leah Inspired Hoppy Bottoms
Want to check out some features...
SURE YOU DO!
1.
Mother's Day Bouquet
from Pretty Little Dahlia
2.
Cinnamon Streusel Pizza
from Mommy on Demand
3.
Surviving Motherhood
From Sew Crafty Angel
4.
Build A Farmhouse Bench Tutorial
From Pink When
5.
Bridal Shower Games, Ideas, & Keepsakes
from The Adorned Home
Have you been Featured??? Grab this button!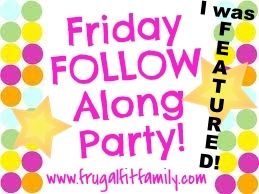 NOW LET'S GET THIS PARTY STARTED!!!!
AND NOW.... Your Change to Connect!