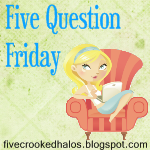 I am participating in a few Blog Hops Today and I thought this idea was too cute! It is from http://fivecrookedhalos.blogspot.com/ ... SO here are my answers!
1. What is one thing you wish you did not have to teach your children?
I wish that I didn't have to teach my children about death. My oldest son is so sensitive and sweet that he can't take the ASPCA commercials without wanting to know what he can do to help! Teaching 5 about sensitive subjects is tricky!
2. What are you going to use since Google Reader is going away?
Honestly...no idea what it is! I can learn!
3. British comedy; Hilarious or strange?
Both. It really depends on the comedy. It beats Dry humor for sure!
4. Do you prefer card games or board games?
Board games for sure!
5. Will winter ever end?
SOON!!!! My kids are chomping at the bit to get outside and the soccer season starts next week so I am hoping it is over tomorrow!
Thanks for the Blog Hop!